Our Awards & Recognitions
What Sets Us Apart from Other Lawyers in Colorado Springs
Clawson & Clawson, LLP is a full-service law firm that serves clients in Colorado Springs and the surrounding area. Our legal experience encompasses a broad range of practice areas, including personal injury, family law, workers' compensation, criminal defense, social security disability, and bankruptcy law. We believe in a client-centered approach to legal service and provide each case with the care and personalized attention to detail that it deserves. Our team has more than 100 years of collective legal experience. In this time, a variety of organizations have acknowledged our topnotch legal service. Our awards and associations include:
​The Multi-Million Dollar Advocates Forum®
​
​The Multi-Million Dollar Advocates Forum® is a prestigious organization of attorneys who have recovered at least one multi-million dollar settlement
​ or jury verdict. At Clawson & Clawson, LLP, we are proud that one of our team members, Matthew Clawson, obtained membership in the forum. The Million-Dollar Advocates forum® was established in 1993. Today, less than one percent of lawyers are admitted into the forum.
​
The forum is proud to include many of the nation's top trial lawyers in its list membership. At Clawson & Clawson, LLP, we know that quality and experience are two of the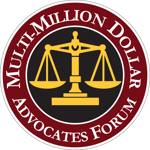 ​ most important characteristics that you can find in a lawyer. We believe that Matthew Clawson's inclusion in the Multi-Million Dollar Advocates Forum® is a direct reflection of his unwavering commitment to both of these traits. Visit MillionDollarAdvocates.com to learn more about the Million Dollar Advocates Forum®.
The National Trial Lawyers Top 100 Trial Lawyers

​
The National Trial Lawyers (NTL) is an organization that includes some of the nation's most reputable and well-respected trial attorneys. NTL is dedicated to acknowledging excellence in the legal field, and recognizes U.S. attorneys that provide superior legal representation as criminal defense trial lawyers or civil plaintiffs' lawyers. NTL's mission is to cultivate a national network of trial lawyers through educational programs and helpful advocacy training. In addition to these resources, NTL promotes excellence in the legal field through the NTL Top 100 Trial Lawyers listing.
In each state, NTL selects 100 noteworthy attorneys for the listing. Two of the lawyers from our firm are included the Top 100 Trial Lawyers: Matthew Clawson and Michael Clawson. As members of NTL, our attorneys exemplify the ideals held and exercised by NTL. We are proud of our inclusion in the listing and will continue to provide the high-quality legal service that earned this accolade.
The Colorado Trial Lawyers Association (CTLA)

​
CTLA was founded in 1953. Today, the association is the largest specialty bar association in the state and is devoted to supporting attorneys who protect the individual rights of accident victims. CTLA encourages quality legal representation, high ethical standards, and a high standard of professionalism the legal field. CTLA seeks to improve and preserve the justice system in the United States.
As members of CTLA, our lawyers have access to a variety of exclusive resources and benefits. These benefits include access to special publications, networking opportunities, and mentoring programs. CTLA membership is designed to be enriching – both personally and professionally – and our firm is ready to learn from these resources and put them to work for your case. When you work with Clawson & Clawson, LLP, you can rest assured that we will exhaust every available means to give your case the upper hand in court.
10/10 "Superb" Avvo Rating

​
Avvo is an online resource that allows people to find local, trustworthy lawyers with the skill and knowledge to help their unique legal situation. Avvo also provides a numerical rating service so that potential clients can gauge the overall quality and dependability of a particular attorney. Members of our team achieved 10/10 "Superb" Avvo ratings; the highest-possible rating on the website. The ratings are based on a mathematical formula that takes the attorney's experience, industry recognition, and professional conduct in consideration.
Our lawyers have achieved outstanding ratings in each of these categories, resulting in the "superb" rating. These ratings are unbiased, easy to understand, and developed by experts to help non-experts find the best lawyer to suit their legal needs. Information used to calculate the Avvo rating may come from public records, the state bar association, court records, and other sources.
The American Association for Justice

​
The American Justice Association (AAJ) began in 1946 when a small group of plaintiffs' attorneys met in Portland, Oregon and decided to create a national organization to further the causes of plaintiff's lawyers across the United States. At the time, the organization was called the national Association for Claimants' Compensation Attorneys. Although the original group of attorneys strictly handled workers' compensation claims, the organization attracted personal injury lawyers as well. Eventually, the association included attorneys from almost every field of advocacy.
Over the years, the association adopted several names, eventually changing calling itself the American Association for Justice in 2006. Although it has been known by many titles, one thing about the AAJ has remained consistent throughout the years: its continued dedication to promoting an effective justice system. As members of AAJ, Clawson & Clawson, LLP also reflects these ideals and upholds the quality of legal service that AAJ promotes.
Accredited by the BBB®

​
The Better Business Bureau® (BBB) hopes to create a safe marketplace where businesses and consumers can establish a relationship of trust with each other. The BBB® facilitates this market place by creating a trustworthy community of business, encouraging fair business practices, setting high standards for businesses, and discouraging unfair business practices.
The BBB® fosters these goals by recognizing high-quality businesses across the United States. Additionally, the BBB® supports the following values: respect, trust, teamwork, integrity, and excellence. As an accredited firm, we meet the BBB®'s criteria for an exemplary business. This includes a commitment to providing consumers with quality services. We are passionate about serving our clients and always strive to maintain a reputation for excellence as a Colorado Springs law firm.
Best Lawyers: Best Law Firms 2021

​
As the oldest and most respected peer review publication in the legal profession, recognition as one of the Best Law Firms by Best Lawyers is highly prestigious, and we are honored to be among the firms selected. This significant honor is widely regarded among legal professionals, media outlets, and the public as an unbiased source for legal referrals.
"Best Law Firms" rankings take into consideration a number of criteria, including: client feedback, peer reviews, and information gathered from the official Law Firm Survey. The rigorous evaluation and selection process involves thorough reviews by prominent attorneys in their respective fields of practice, and only the top attorneys in each field are ultimately chosen for inclusion. In total, the Best Lawyers® organization has ranked more than 1,300 law firms in 122 different specialties, and we are honored to have made the list.
Lawyers of Distinction

​
Lawyers of Distinction uses a proprietary analysis to evaluate and select members to the organization. In total, no more than 10% of practicing attorneys are chosen in any given state, making this an honorable recognition for those who earn it. The exhaustive vetting process includes 4 steps: nomination, independent research, ethics review and background check, and final selection.
Attorneys selected to the Lawyers of Distinction have demonstrated exemplary professional achievements, the likes of which include: honors and awards, special certifications, impactful verdicts and settlements, notable case results, scholarly lectures and writings, pro bono and community service, and other outstanding achievements. We are honored to be recognized by the organization, and we will continue to hold ourselves to the same high standards of ethics expected of attorneys who've earned this recognition.
AV® Rated – Peer Rated for High Professional Achievement

​
Recognized as the "gold standard" in attorney ratings, the Martindale-Hubbell® Peer Review Ratings™ system awards lawyers who demonstrate the strongest legal abilities and the highest ethical standards. The organization began in 1868 and now offers consumers with the most extensive and reliable list of highly rated attorneys in any given area. At Clawson & Clawson, LLP, we are proud to have earned the title of AV® Preeminent Rated by Martindale-Hubbell® in 2013, 2014, and 2015.
Best Lawyers in America – Best Lawyers

​
First published in 1983, The Best Lawyers in America is a longstanding, tried-and-tested peer-review process that's been around for 35+ years. At its core, the mission of Best Lawyers is to identify and highlight the country's most elite legal professionals. To date, it remains widely recognized as the most reliable and unbiased source of legal referrals and is published in more than 75 countries across the globe.
Recognition by Best Lawyers is based entirely upon peer review. Attorneys who are selected exhibit exemplary skills and are recognized as the most rational, transparent, conscientious, and sophisticated legal professionals in the field. We could not be prouder of our team members who've earned this distinction.
National Association of Distinguished Counsel - Top One Percent

​
The National Association of Distinguished Counsel is an organization dedicated to promoting the highest standards of legal excellence. The mission of the NADC is to objectively recognize the attorneys who elevate the standards of the Bar and provide a benchmark for other lawyers to emulate. By virtue of the incredible selectivity of our research process, only the elite few are invited to join the ranks of the NADC. Specifically, less than 1% of practicing attorneys in the United States are members of the "Nation's Top Attorneys". The recipients of this prestigious award have demonstrated the highest ideals of the legal profession.
Contact Our Colorado Springs Personal Injury Attorneys Today!
If you need help resolving a legal problem, Clawson & Clawson, LLP has the qualifications to help you obtain the case results that you need. Contact us to see what our team can do for you!